Schoolgirls! 7
[HSP-055]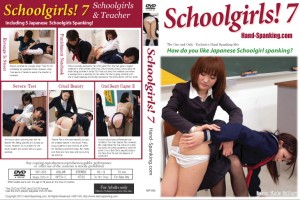 Welcome a new studio and membership program to the Kabukicho-Girls and to JuicyBunny JAV.  Hand-Spanking.com provides unique original and very kinky content in the spanking genre.  All 100% amateur and 100% exclusive content, this DVD is an excellent exploration for your computer and your DVD player into the world of Japanese amateur spanking fetish.
KAM
Starring: Japanese Amateurs
Length: 79 min
Studio: HSP
This DVD includes 6 of our new Teacher-Schoolgirls Spanking! How do you like Japanese Schoolgirls Spanking?
Includes: Punishment Notebook / Severe Test / Revenge Is Sweet / Cruel Beauty / Cruel Beauty Chapter 2
Bonus: Photo Gallery
This title is lightly censored.
To Join the Hand-Spanking Monthly Membership Site, Click Here